Become a Sacred Facilitator
Orienting ourselves towards Vitality!
To fly as a Sacred Facilitator there are subtle aspects of how we approach and deliver this material that are the foundations of The Eight Sacred Responsibilities. The way this is taught is by experiencing the teachings yourself.
We are cultivating a community of women where we respond with respect, care and where we lift each other up. We agree to be a sacred listener, and to facilitate tiny shifts towards vitality using the Eight Sacred Responsibilities as our guide. As a facilitator we hold the container for development and self reflection, in both ourselves and the women we facilitate. It is our honour to show presence to others.
The Atributes of our Facilitators
Our Facilitators respect themselves and others, always.
They respect all living things, seen and unseen. They set a beautiful example of real women living a real life. The truth is, life can get sticky at times and that is real. The Eight Sacred Responsibilities Facilitators know this, and they turn to the power of their practices and connection to this community as they continue to build resilience and vitality so they can remain self-empowered even at the most complicated of times.
Your Sacred Facilitator Prerequisites
There are three prerequisites you will have under your belt before attending the Sacred Facilitator Certificate Training weekend. If you time your calender well, you might find you can cover off all three over a 12 week period!
Attend one 8 week Meditation Circle.
Attend 10 yoga classes.
Attend one session of The Living Sacred Daily Course.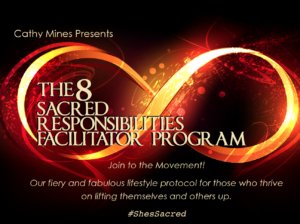 Why we have prerequisite training
This way you observe your Sacred Facilitator in action and begin to learn the subtleties of how we bring women into our community in an open loving way. This training easily applies to all areas of our life, making for a rich and healthy Third Act! Be the change you want to see in your life.
Our 2023 Facilitator Training Dates & Fees:
Friday November 17th 7:30-9pm & Saturday November 18th 1-8pm.
Exam Wednesday December 13th  7-9:30pm
Fees:$350.00 (Book your pre registration interview before sending in your fees at livingsacreddaily@gmail.com)
Not only is the book inspiring, but its practical, hands-on approach provides an easy roadmap to empowerment that fits any lifestyle. This is a book you'll want to read over and over again as you deepen the lessons learned and apply them in new and exciting ways to live the fullest life you were destined to live. I have no doubt it will improve your life and the lives of other women, crossing culture, space and time with the positive impact of its ripple effects.

Join the Movement & get your free Guide to the 24 Practices of the Eight Sacreds